Discover the new home that suits your lifestyle by choosing from our selection of models of single family homes and semi-detached homes available in one of our many housing projects located in the Eastern Townships region. All our models are also customizable to meet your needs!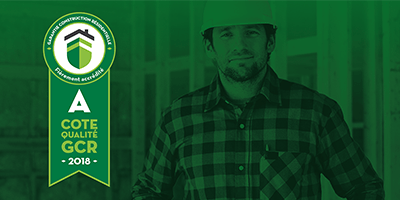 Our new homes are covered by a residential construction guarantee and meet the latest standards of the Régie du bâtiment du Québec (RBQ)
Our vision
Groupe Immobilier Gince defines itself as a partner in the quality of life of its citizens. The company is attentive to the needs of its customers and the market. Accompanying customers is a priority at every stage of the buying process – from financing to choosing finishing materials through taking ownership. The head office is located at the heart of one of the Group's projects in Waterloo and maintains daily contact with the new owners. Proximity, communication, and accessibility are at the top of our priorities.
Groupe Immobilier Gince focus its activities in the Eastern Townships. Our projects, of contemporary design, combine all the benefits of urban neighborhoods and the joys of the many fun and sports activities offered by the proximity of nature, mountains, lakes and ponds: golf, skiing, horse riding , swimming, hiking trails, hiking, biking trails and more. Easy access to major highways and accessibility to schools, shops and other public services are all criteria for selecting the living environments that we develop.
The relationship with our customers is at the heart of our concerns because we understand that your home is the place of family and friends. Our buyers appreciate the welcome and the transparency we reserve for them from the first meeting. We provide all the flexibility to review their home plans according to their needs and provide useful support throughout the various stages of the acquisition process. From the choice of their plan and lot to the choice of their materials, through legal and financial procedures and all other relevant advice.